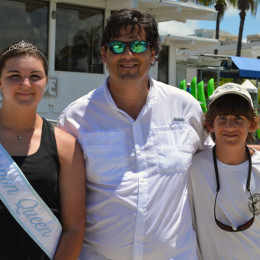 The 84th annual Sarasota Tar­pon Tour­na­ment fin­ished with a fierce Fish-Off com­pe­ti­tion Sat­ur­day, June 21st, where angler final­ists reeled in a total of nine Tar­pon, despite less than desir­able fish­ing conditions.
Seven anglers com­peted in the Sarasota Tar­pon Tour­na­ment Fish-Off. Anglers qual­i­fied for the Fish-Off by either win­ning a Spe­cial Divi­sion, (i.e. Fly, or Most Releases) or by catch­ing the largest Tar­pon, mea­sured by girth, dur­ing one of the five weeks of the reg­u­lar tournament.
Of those seven anglers com­pet­ing, six caught a fish in the Fish-Off. Com­peti­tor Dave Robin­son was the first to catch shortly before 8 a.m. in the morning.
In the end, one angler ruled supreme, by a mat­ter of less than one inch. David Sugar claimed the title of 2014 Sarasota Tar­pon Tour­na­ment Cham­pion by catch­ing and releas­ing a Tar­pon with a girth of 38¾" inches. Clark Nash came in sec­ond, with a fish mea­sur­ing 38 inches in girth.
The final­ists will be rec­og­nized at an awards ban­quet July 19, at the Hyatt Regency Sarasota. For more infor­ma­tion on the Awards Ban­quet click on the Events but­ton at the top of this page.